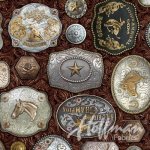 Wide Open Spaces Q4418-144 Sable

Beautiful digital print of rodeo championship belt buckles and buttons on a tooled leather-look background.


Wide Open Spaces Q4419-98 Moss 35" Panel

Digital print of four wild horses on a sage green background,



Out of Stock
Wide Open Spaces Q4420-6 Brown

Classic tooled leather design in a beautiful digital print.


Wide Open Spaces Q4491-260 Grizzly 32" panel

Realistic digital print of mama grizzly and cubs.